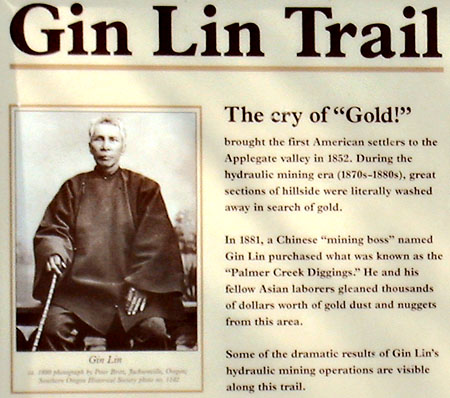 Gin Lin (c.1845-c.1900)
Gin Lin was a prominent Chinese mine boss who lived and worked in southern Oregon during the last half of the nineteenth century. He was one of thousands of Chinese sojourners who came to Oregon during the nineteenth century to seek their fortunes. He probably arrived in southern Oregon in the early 1860s, when his name first appears in the historical records.
Anti-Chinese sentiment was widespread on the Pacific Coast when Gin Lin came to Oregon. Chinese workers were singled out for special taxes. These included a mining tax in Jackson and Josephine counties, first levied in the 1850s, and a statewide annual poll tax instituted in 1862. The original 1857 state constitution also stated that "no Negro, Chinaman or Mulatto shall have the right of suffrage." Despite the state's institutionalized discrimination against them, Chinese men came by the thousands to work in Oregon's mines, salmon canneries, and agricultural fields.
Gin Lin recruited many of his fellow countrymen to work his mine, which he purchased in 1864. He gradually acquired more land over the years and had his men build miles of ditches to serve the newly established mines. One of the largest is still known as China Ditch. The above photo shows an interpretive sign at the trailhead of the Gin Lin Mining Trail in southwestern Oregon. This three-quarters-mile trail traces the remains of a late-nineteenth-century hydraulic gold mining operation in what was known as the Palmer Creek Diggings, now a part of the Rogue River National Forest.
In 1894, Gin Lin returned to China. A very rich man by this time, he is rumored to have been murdered by robbers, though this story has never been verified in the Chinese archives. Although little is known about his final days, his legacy can still be seen on the landscape. The remains of some of his diggings can be found along the Rogue River National Forest's Gin Lin Trail.
---
Map It
---
This entry was last updated on March 17, 2018