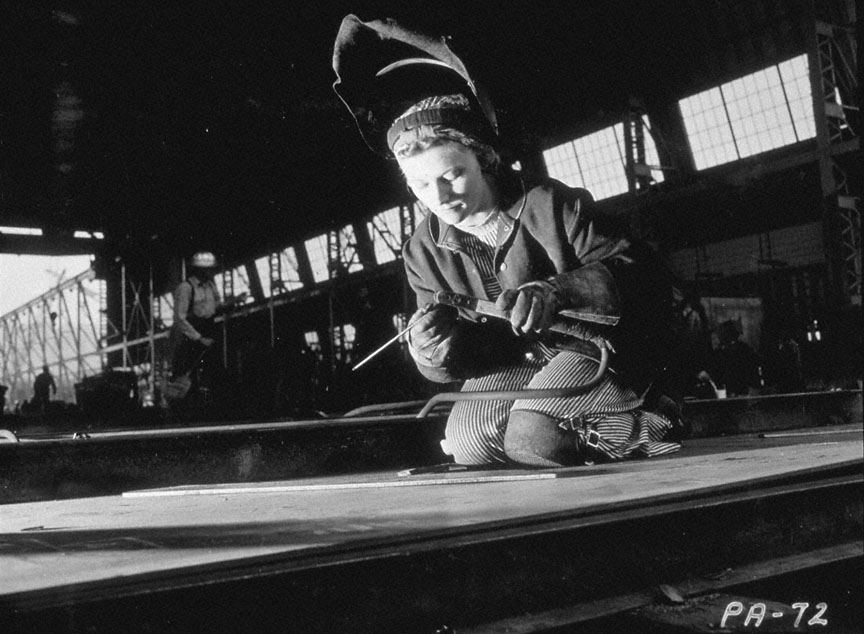 Catalog No. —

OrHi 96923

Date —

circa 1943

Era —

1921-1949 (Great Depression and World War II)

Themes —

Transportation and Communication, Women

Credits —

Oregon Historical Society

Regions —

Portland Metropolitan

Author —

Ray Atkeson
Iona Murphy at Oregon Shipbuilding Corp., Portland
This ca. 1943 photograph, taken by Ray Atkeson, shows Iona Murphy welding in an assembly building at the Oregon Shipbuilding Corporation in Portland. During World War II, up to 30,000 women worked in shipyards in Portland and Vancouver, Washington, building tankers, aircraft carriers, and merchant marine transportation ships for the war effort. The Oregon Shipbuilding Corporation was one of three shipyards owned locally by the Kaiser Corporation. Atkeson was a photographer who documented Oregon's people and landscapes from 1928 until his death in 1990.
The demand for labor at shipyards offered women an opportunity to work in occupations previously closed off to them. They were hired as welders, helpers, shipfitters, general laborers, and electricians. The shipyards also paid the women equitable wages compared to men and provided childcare centers. However, few women made it into the higher paying, higher skilled jobs. While the shipyard companies provided accessible training for jobs such as welding, it was more difficult for women to receive instruction as loftsmen and riggers. There was also a race disparity at the yards, and Black women were often segregated into the lowest-paying jobs.
When the war ended, many female workers were laid off and pressured to become housekeepers or return to traditional "women's work" — waitressing, clerical work, and low-paying jobs as manual laborers.
Written by Tania Hyatt Evenson, © Oregon Historical Society, 2002.