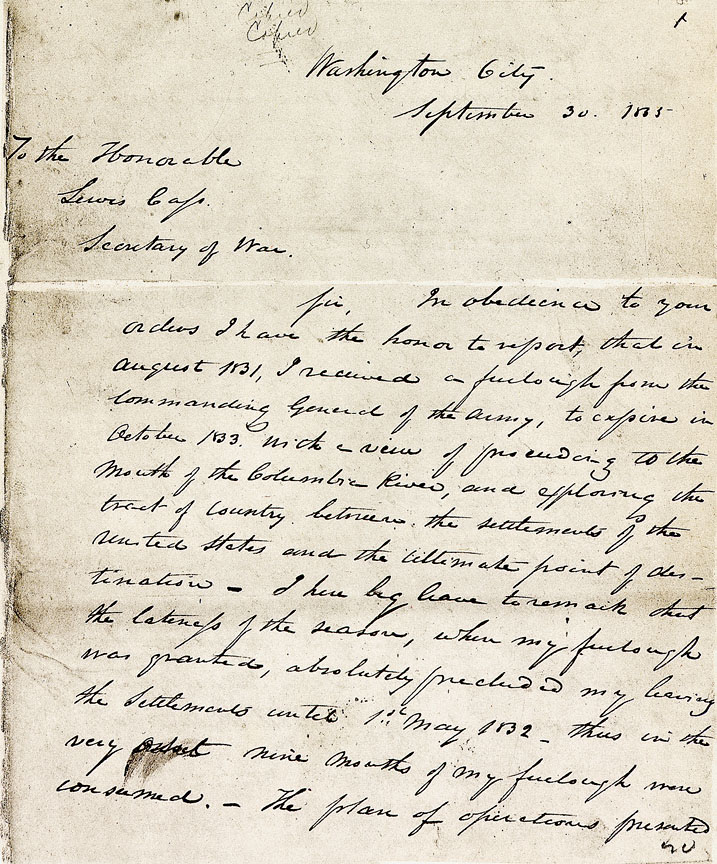 Catalog No. —

Mss 478

Date —

1835

Era —

1792-1845 (Early Exploration, Fur Trade, Missionaries, and Settlement)

Themes —

Exploration and Explorers, Government, Law, and Politics, Native Americans, Oregon Trail and Resettlement, Transportation and Communication

Credits —

Oregon Historical Society

Regions —

Oregon Country

Author —

Captain Benjamin Bonneville
Capt. Bonneville to Secretary of War Lewis Cass
In September 1835, Captain Benjamin Louis Eulalie de Bonneville wrote this letter to Secretary of War, Lewis Cass, in an attempt to be re-instated to the U.S. Army. Although Bonneville believed that an initial report to Army officials had extended his official one-year furlough, he had in fact been removed from the army's rolls after overstaying his leave by more than two years.
In May 1832, Captain Bonneville, then on a one-year leave from the U.S. Army, departed from Fort Osage, Missouri. He led a privately-funded expedition en route for the Far West. Although Bonneville's enterprise had a commercial component (fur trapping), the captain was also quite interested in the geographic exploration of the region referred to as the Oregon Country, the vast territory west of the Rockies that stretched from Russian Alaska south to Spanish California. Although the United States and Great Britain both officially claimed the Oregon Country under a joint occupancy treaty (1818), the American presence in the region was negligible during early decades of the 19th century. Through the early 1840s, the region was largely controlled by the Hudson's Bay Company, a British fur trade company based in London.
As noted in this letter excerpt, the main party of Bonneville's expedition remained with the Bannock Indians (of present-day southeastern Idaho) while Bonneville and three other men explored the Snake and Columbia Rivers over the winter and summer of 1833-1834. The Bannock, a Northern Paiute group originally from present-day eastern Oregon, had migrated eastward prior to contact with Euro-Americans in the early 19th century. In contrast to their western relatives, the Bannock adopted a horseman, buffalo-hunting culture following the introduction of the horse into the Great Basin region in the 18th century.
Further Reading:
Goeztmann, William H. Exploration and Empire: The Explorer and the Scientist in the Winning of the American West. New York, N.Y., 1966.
Murphy, Robert F. and Yolanda Murphy. "Northern Shoshone and Bannock." In The Handbook of North American Indians. Vol. 11 Great Basin. Washington D.C., 1986.
Written by Melinda Jette, Oregon Historical Society, 2002.