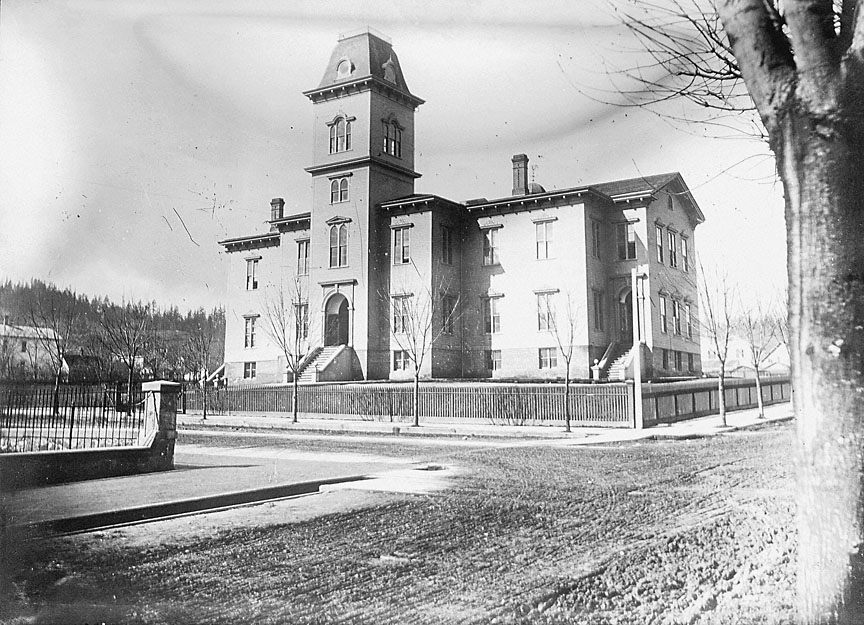 Catalog No. —

OrHi 7098

Date —

1858

Era —

1846-1880 (Treaties, Civil War, and Immigration)

Themes —

Arts, Black History, Education, Race, Ethnicity, and Nationality

Credits —

Oregon Historical Society

Regions —

Portland Metropolitan

Author —

Unknown
Central School
Civic leaders demonstrated their commitment to an educated populace by opening Central School, shown here in 1858, and located originally at Southwest Sixth and Morrison. With tax dollars scarce, finding funds for the first permanent public school had not been easy.
The first school in Portland was a private school, opened in a log cabin in 1847. It lasted only three months. Portland's next school, funded by both public and private sources, also lasted only three months. Other academies opened in 1851, and local merchant Josiah Failing organized the effort to raise public funds and private subscriptions for a permanent public school.
Until 1867, historian E. Kimbark MacColl writes, Portland's sixteen Black children were "denied the public education guaranteed all children by legislation." It was then that a challenge prompted a school-board resolution to open a separate "colored" school. The Colored School lasted five years, closing its doors in 1872 when Portlanders voted to admit Black children to the three local elementary schools.
In 1883, the entire block shown in this photo was sold to the Northern Pacific Terminal Company for $75,000, and the city moved the school building to Park Street. The Portland Hotel was eventually built on the site and served as a hotspot for elite Portlanders and wealthy visitors to the city.
Further Reading:
Casey, Helen M. Portland's Compromise: The Colored School, 1867-1872. Portland, Oreg., 1980
McLagan, Elizabeth. A Peculiar Paradise: a History of Blacks in Oregon, 1788-1940. Portland, Oreg., 1980.
Writtten by Trudy Flores, Sarah Griffith, © Oregon Historical Society, 2002.