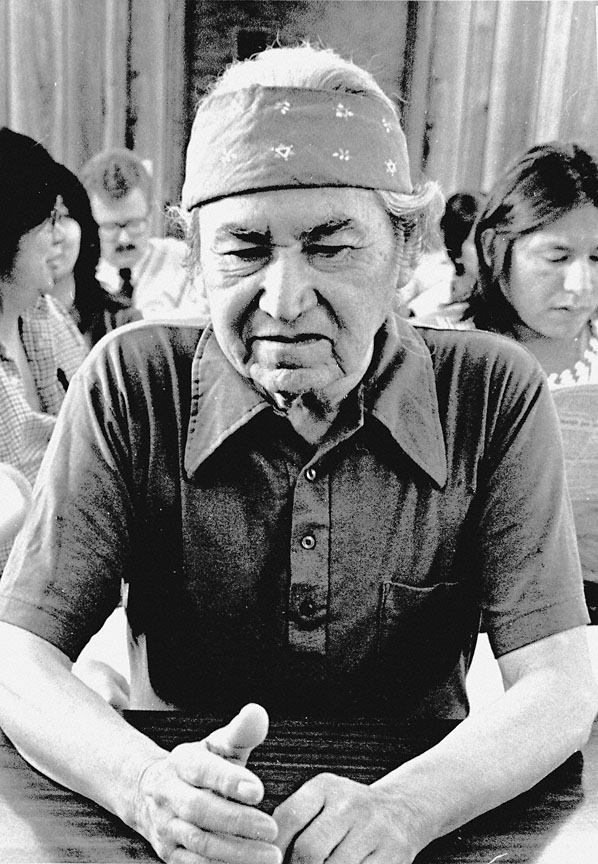 Catalog No. —

CN 020037

Date —

April 1987

Era —

1981-Present (Recent Oregon History)

Themes —

Environment and Natural Resources, Government, Law, and Politics, Native Americans

Credits —

Oregon Historical Society

Regions —

Columbia River

Author —

Jacqueline Moreau
David Sohappy
This photograph of David Sohappy, Sr. (1925–1991) was taken during a Yakama tribal trial stemming from a federal sting operation undertaken by the National Marine Fisheries Service—commonly known as "Salmonscam"—in which Sohappy and four other Columbia River Indian fishers were accused of selling illegally caught fish to an undercover agent in 1981. The Yakama court found all the defendants innocent, ruling that they were entrapped by federal law enforcement officers.
Even though Sohappy had eventually been exonerated by the Yakama court in 1987, he was already facing a five year prison sentence from a previous 1983 ruling made by U.S. District Court Judge Jack Tanner, which found him guilty of similar charges. The Yakama court did not get directly involved until Sohappy and the other Yakama defendants were refused an appeal by the U.S. Supreme Court in August of 1986.
By the time this photograph of Sohappy was taken, he had already spent approximately six months at the Sandstone Federal Prison in Minnesota—2,000 miles away from his family. During that time, his health had already begun to degenerate, having lost thirty pounds by the time he returned to the Yakama Reservation for trial. After he was found innocent by the Yakama court, he was returned to federal custody and sent back to prison in Minnesota, where he soon suffered a debilitating stroke.
He was not released from prison until his wife, Myra, and others were able to enlist the support of powerful political players like Senators Daniel Inouye (D-HI) and Dan Evans (R-WA). Together they were able to garner enough support on Capital Hill to force his release on May 18, 1988. The following day, his son and fellow co-defendant in the Salmonscam case, David Sohappy, Jr.—also imprisoned at Sandstone Federal Prison—was released as well.
Many believe that David Sohappy, Sr. was targeted by state and federal authorities because of his long history of direct action to preserve his people's ways of life—particularly as fishers on the Columbia River. His role in the landmark Sohappy v. Smith/United States v. Oregon (1969) ruling by U.S. District Court Judge Robert C. Belloni, his persistent resistance to state, federal, and even tribal efforts to impose fishing regulations upon his family, and his insistence upon retaining a permanent residency on the northern bank of the Columbia River (at Cook's Landing) created many enemies for him. But, his activism has also made him a hero among many Indians and non-Indians alike.
Further Reading:
Cohen, Fay G. Treaties on Trial: The Continuing Controversy over Northwest Indian Fishing Rights. Seattle Wash., 1986.
Cone, Joseph and Sandy Ridlington, eds. The Northwest Salmon Crisis: A Documentary History. Corvallis, Oreg., 1996.
Ulrich, Roberta. Empty Nets: Indians, Dams, and the Columbia River. Corvallis, Oreg., 1999.
Written by Joshua Binus, © Oregon Historical Society, 2003.