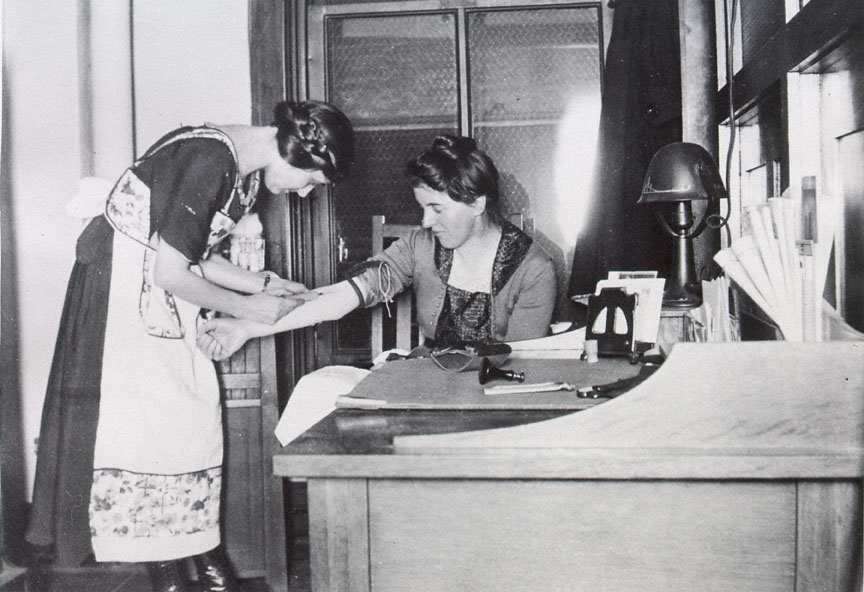 Catalog No. —

CN 60820

Date —

circa 1910

Era —

1881-1920 (Industrialization and Progressive Reform)

Themes —

Government, Law, and Politics, LGBTQ, Science, Medicine, and Technology, Women

Credits —

Oregon Historical Society

Regions —

Portland Metropolitan

Author —

Unknown
Dr. Marie Equi's office
In 1910, the census reported that there were 152 female doctors in Oregon. This photograph shows a female medical assistant helping a patient in the Portland office of Dr. Marie Equi. Equi, a medical doctor who worked in Oregon in the early 20th century, was also a labor activist, an anarchist, and a lesbian.
In 1903, Equi graduated from the University of Oregon Medical School. She later won a commendation from the U.S. Army for organizing a group of doctors and nurses to provide aid to San Francisco residents after the 1906 earthquake. Equi became a controversial person, in part because she performed abortions and supported Margaret Sanger's national campaign to promote birth control through the use of contraceptive devices.
Equi was also an anarchist and an activist for the radical labor union, the Industrial Workers of the World. During World War I, an angry mob attacked Equi after she displayed an anti-war banner at a war-preparedness rally. Then, because of her outspoken opposition to war, the government used the Espionage Act to prosecute Equi for sedition — rebelling against the authority of the state. In 1919, a jury found her guilty and Equi spent more than a year in San Quentin Prison.
Written by Tania Hyatt Evenson, © Oregon Historical Society, 2002.