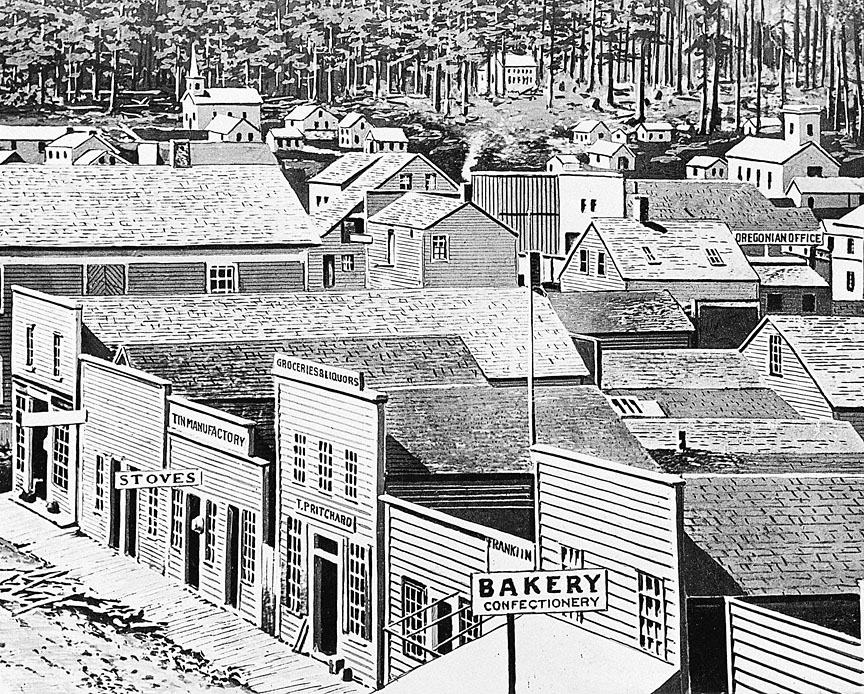 Catalog No. —

OrHi 951

Date —

1854

Era —

1846-1880 (Treaties, Civil War, and Immigration)

Themes —

Geography and Places

Credits —

Oregon Historical Society

Regions —

Portland Metropolitan

Author —

Unknown
Early Portland, 1854
In this heavily retouched 1854 photo, the edge of the forest still abuts the edge of the town, but the variety of businesses attests to Portland's vitality. The Oregonian Building is in the top right quadrant of this picture. Thomas Jefferson Dryer, the editor, brought his printing press to Portland in 1851 and started the Weekly Oregonian at the request of city leaders. The Weekly Oregonian gave Portland a voice and, therefore, an edge over other towns along the rivers in the quest for recognition, status, and river commerce.
Spirited political debate developed between Dryer and his foremost editorial rival, Asahel Bush. Bush, a Democrat and editor of the Oregon Statesman, first established his paper in Oregon City and later moved its offices to Salem when that town became the territorial capital. During this early statehood period, newspapers were driven heavily by political money and membership in political parties. They also served as direct arena for political ideas, agendas, and debate. For instance, Dryer, at various times, represented the local Whig faction, temperance, the Know-Nothing party, and political independence, while Bush remained a staunch loyalist to the Union during the Civil War. Both editors used the pages of their newspapers, which are still published today under slightly altered names, to frame political arguments as well as stage vigorous personal attacks.
Further Reading:
Johnson, David A. Founding the Far West. Berkeley, Calif., 1992.
MacColl, E. Kimbark. Merchants, Money and Power: The Portland Establishment 1843-1913. Portland, Oreg., 1988.
Written by Trudy Flores, Sarah Griffith, © Oregon Historical Society, 2002.