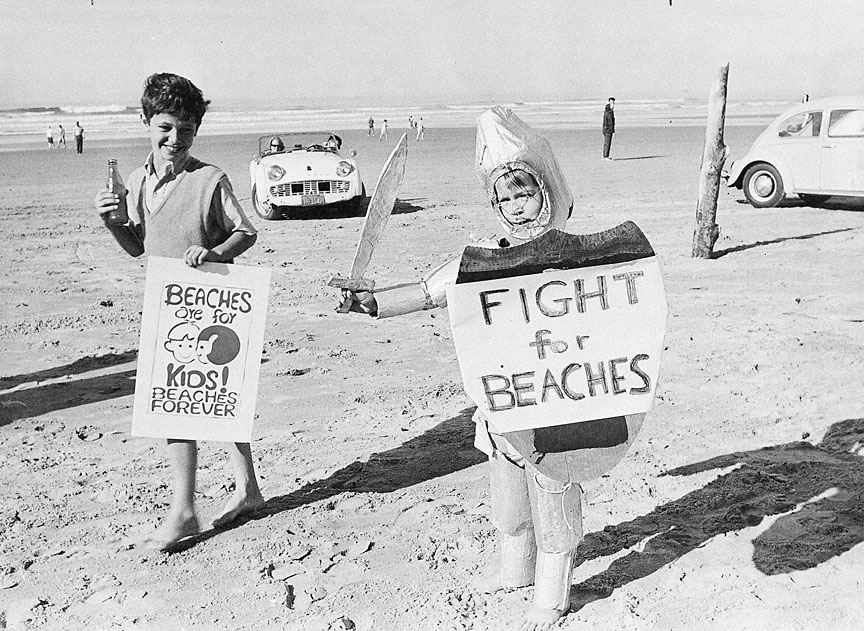 Catalog No. —

OrHi 91802

Date —

October 28, 1968

Era —

1950-1980 (New Economy, Civil Rights, and Environmentalism)

Themes —

Environment and Natural Resources, Government, Law, and Politics

Credits —

Oregon Historical Society

Regions —

Coast

Author —

Herb Alden, Oregon Journal
Fight for the Beaches
Oregon Journal photographer Herb Alden took this photograph of Peter Frost (right) and an unidentified friend at an Oct. 28, 1968 rally in Cannon Beach. More than 200 people attended the event in support of a state-wide voter's initiative that would have authorized a gas tax to buy privately-owned beach land. A volunteer group, "Beaches Forever," teamed up with State Treasurer, later Governor, Robert Straub to back the measure, which failed by a vote of 464,140 to 315,175.
The initiative reflected concerns that the "Beach Bill," signed into law the prior year by Governor Tom McCall, would not effectively protect Oregon beaches from private development projects. In 1967, the public ownership of Oregon's coastline was threatened when Cannon Beach motel owner William Hay fenced off a portion of the beach for the private use of his customers.
At issue was how the public portion of the beach was defined. The law only defined state property as the so-called "wet sand" area between low and high tides. That meant the "dry sand" area, above the high tide, was unprotected from development. The State Highway Department, legislators, and McCall worked together to pass legislation that extended state ownership of the beach up to the vegetation line. They also strictly restricted development on the privately-owned portions of the dry sand. State and federal courts have largely upheld the state's regulations against beach land developments.
Further Reading:
Walth, Brent. Fire at Eden's Gate: Tom McCall and the Oregon Story. Portland, Oreg., 1994.
Written by Kathy Tucker, © Oregon Historical Society, 2002.