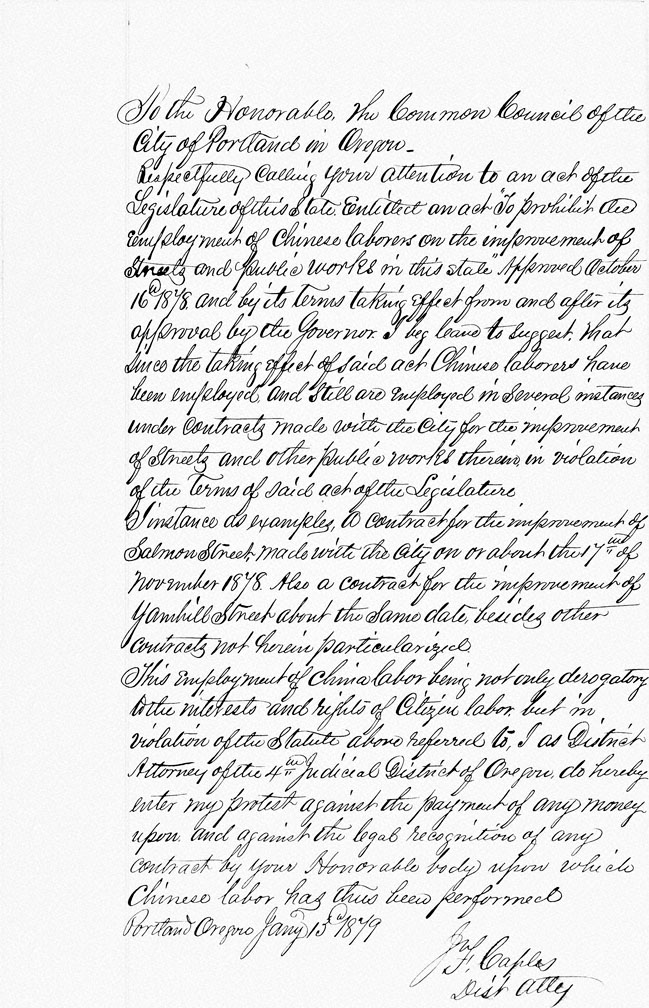 Catalog No. —

OrHi 89756

Date —

January 13, 1879

Era —

1846-1880 (Treaties, Civil War, and Immigration)

Themes —

Government, Law, and Politics, Race, Ethnicity, and Nationality

Credits —

Oregon Historical Society

Regions —

Portland Metropolitan

Author —

J.F. Caples
From J.F. Caples to Portland City Council
Oregon District Attorney J. F. Caples wrote this letter to the Portland City Council warning about the city's violation of a state law banning the employment of Chinese laborers on public works projects.
From the 1850s through the early 1880s, Chinese laborers immigrated to the Pacific Northwest in significant numbers. This period of Chinese immigration coincided with the rise of the organized labor movement in the United States. As a result of the willingness of large businesses to hire Chinese laborers at lower than average wages, racial and labor conflicts soon developed in the region between Euro American workers and the Chinese immigrants. While some business leaders sought modest protections for their low-wage Chinese laborers, some political leaders exploited the racial fears of the Euro American workforce. In Oregon, one result of this conflict was the passage of a state law in October 1878 that forbade the use Chinese labor in street improvements and public works projects.
Following District Attorney Caples' letter to the city council, Portland officials attempted to enforce the anti-Chinese labor law. In response, a group of Portland contractors headed by Perry Baker sued the city to prevent enforcement of the law. U.S. Circuit Court Judge Matthew Deady issued a decision on the matter in July 1879. Deady found that the prohibition on Chinese labor violated the Burlingame Treaty of 1868, which allowed the Chinese to legally immigrate to the United States. As legal immigrants, the Chinese were guaranteed the same employment rights as other legal residents. Although Deady ultimately dismissed the suit on a legal technically, he effectively demonstrated that anti-Chinese labor laws were not legally tenable. Despite the setback, anti-Chinese labor activists pursued extra-legal means to limit Chinese employment in large-scale operations, such as pressuring employers to fire Chinese workers. Such efforts were more successful in Washington than Oregon. This was due to the smaller number of Chinese immigrants in Washington, and the concentration of Chinese immigrants in Portland, where they had distinguished themselves in sectors such as domestic service, small-scale factory work, the fruit and vegetable trade, and small business activities.
Further Reading:
Corbett, P. Scott and Nancy Park Corbett. "The Chinese in Oregon, c. 1870-1800." Oregon Historical Quarterly 78, 1977: 73-85.
Clark, Malcom. "The Bigot Disclosed: 90 Years of Nativism." Oregon Historical Quarterly 75, 1974: 109-190.
McClain, Charles J. In Search of Equality: The Chinese Struggle Against Discrimination in Nineteenth-Century America. Berkeley, Calif., 1994.
Written by Melinda Jette, © Oregon Historical Society, 2003.