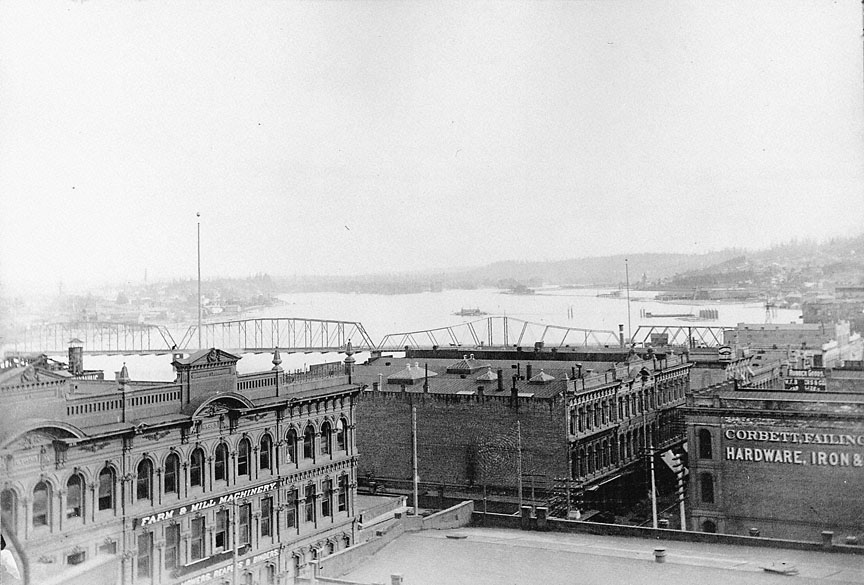 Catalog No. —

OrHi 68199

Date —

1889

Era —

1881-1920 (Industrialization and Progressive Reform), 1921-1949 (Great Depression and World War II), 1950-1980 (New Economy, Civil Rights, and Environmentalism)

Themes —

Geography and Places, Transportation and Communication

Credits —

Oregon Historical Society

Regions —

Portland Metropolitan

Author —

Unknown
Morrison Street Bridge, 1889
The Morrison Street Bridge, built in 1887, served as the first bridge to connect the east and west banks of the Willamette River. The new connection spurred explosive growth in East Portland, where a railroad already linked that city to Salem. Streetcars traveled between the two towns and more bridges followed. Heavy use and new demands required that the original Morrison Street Bridge be replaced in 1905, and again in 1958.

The photo shows the Corbett & Failing Company, which dealt in hardware and iron, — both important in railroad construction — and farm and mill machinery sales — items of special interest to farmers who came to Portland to sell their crops.

East Portland grew quickly that the city soon demanded infrastructure such as sewers and water. These improvements, however, came at a price and those who had bought inexpensive land on the east side backed consolidation of Portland and East Portland in order to dilute the economic burden. Their belief was that consolidation would increase the number of taxpayers who would bear the expense of the needed improvements.
Further Reading:
MacColl, E. Kimbark. Merchants, Money and Power: The Portland Establishment 1843-1913. Portland, Oreg., 1983.
Written by Trudy Flores, Sarah Griffith, © Oregon Historical Society, 2002.