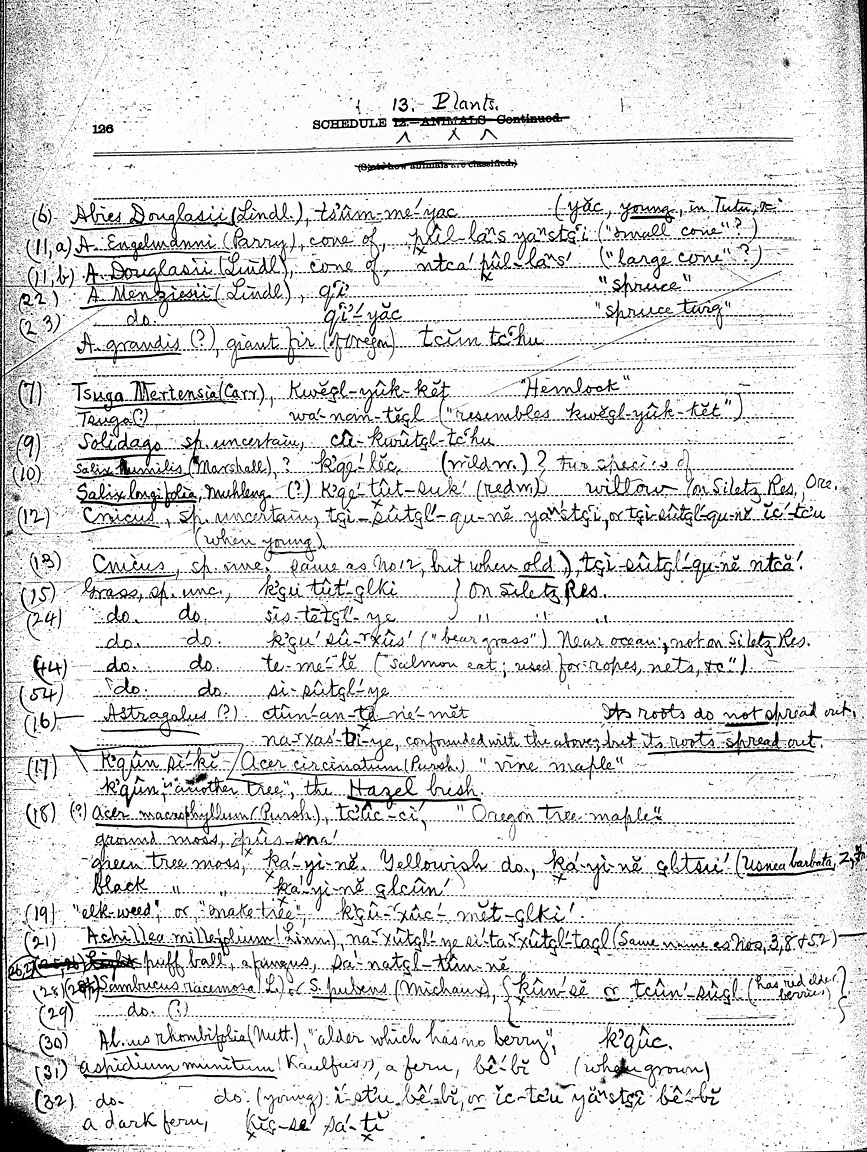 Catalog No. —

Mss 442

Date —

1884

Era —

1792-1845 (Early Exploration, Fur Trade, Missionaries, and Settlement), 1846-1880 (Treaties, Civil War, and Immigration), Oregon Country before 1792

Themes —

Environment and Natural Resources, Native Americans

Credits —

National Anthropological Archives, Smithsonian Institute

Regions —

Southwest

Author —

James Owen Dorsey
Naltunnetunne Plant Vocabulary
The Naltunnetunne lived on Oregon's South Coast just north of the Chetco River prior to their removal to the Siletz Indian Reservation in the mid-1850s. They spoke a dialect of Tututni, a member of the Pacific branch of the Athapaskan language family.
The epidemics, war, removal, and forced assimilation that followed the gold rush of the 1850s devastated the Naltunnetunne and other Native communities of southwestern Oregon. Our knowledge of these cultures, therefore, is quite fragmentary. Much of what we know comes from the work of salvage ethnographers like James Owen Dorsey, an Episcopalian deacon and ethnographer who visited the Siletz Reservation in the mid-1880s.
This word list of Naltunnetunne plant names was one of the results of Dorsey's work. It includes the Naltunnetunne words for a wide variety of plant species, from the diminutive self heal to the towering Douglas fir—which Dorsey labels Abies Douglasii following John Lindley's nomenclature. A number of trees, grasses, and mosses are represented, though Dorsey's sometimes limited botanical skills make it difficult to match some Naltunnetunne words with their English and Latin counterparts.
Some of the items the Naltunnetunne made with plant fibers are listed here, including ropes, nets, bedding, pipe stems, and arrowshafts. Several food plants are also listed, such as salal, kinnickkinnick, salmonberry, hazelnut, cattail, and red elderberry. Also worth noting are the introduced plants, which include velvet grass and St. John's wort. They may have been misidentified by Dorsey or his Naltunnetunne informants might have already coined or borrowed terms for these recent botanical immigrants from Europe.
Further Reading:
Turner, Nancy J. Food Plants of Coastal First Peoples. Vancouver, B. C., 1995.
Pojar, Jim, and Andy MacKinnon. Plants of the Pacific Northwest Coast: Washington, Oregon, British Columbia & Alaska. Vancouver, B.C., 1994.
Gunther, Erna. Ethnobotany of Western Washington: The Knowledge and Use of Indigenous Plants by Native Americans. Seattle, Wash., 1945.
Written by Cain Allen, © Oregon Historical Society, 2003.