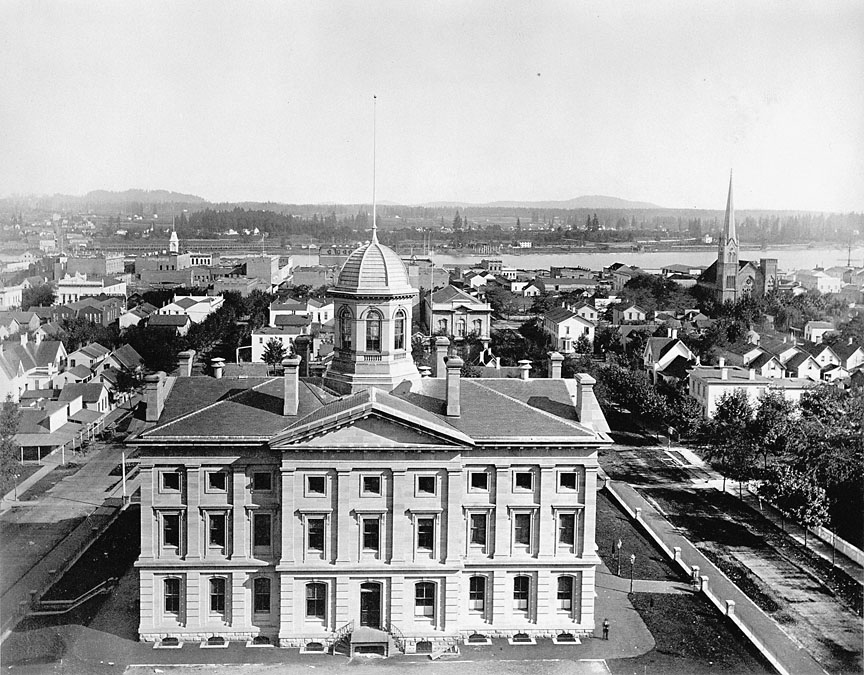 Catalog No. —

OrHi 754a

Date —

1875

Era —

None

Themes —

Geography and Places, Government, Law, and Politics

Credits —

Oregon Historical Society

Regions —

Portland Metropolitan

Author —

A.H. Wulzer
Pioneer Courthouse, 1875
When the courthouse at SW Fifth and Yamhill streets was built in 1875, it was considered by some residents to be too far away from the city. However, within a few years, the city grew to encompass the building.

After the turn of the century, the old courthouse was replaced by newer government buildings and became an expensive maintenance. People proposed the city demolish the original courthouse and replace it with everything from a theatre to a parking structure. Others hoped that it might be donated to the city for a park. Opponents argued that a park would draw too many pedestrians to the already congested downtown area. Many others thought commercial buildings would better serve the downtown area.

It was not until 1968 that the federal government finally agreed to preserve the building. In 1973, after renovation, the courthouse was reopened as a post office. Today it is the oldest public building in Portland and the oldest courthouse in the Ninth Circuit.
Written by Trudy Flores, Sarah Griffith, © Oregon Historical Society, 2002.