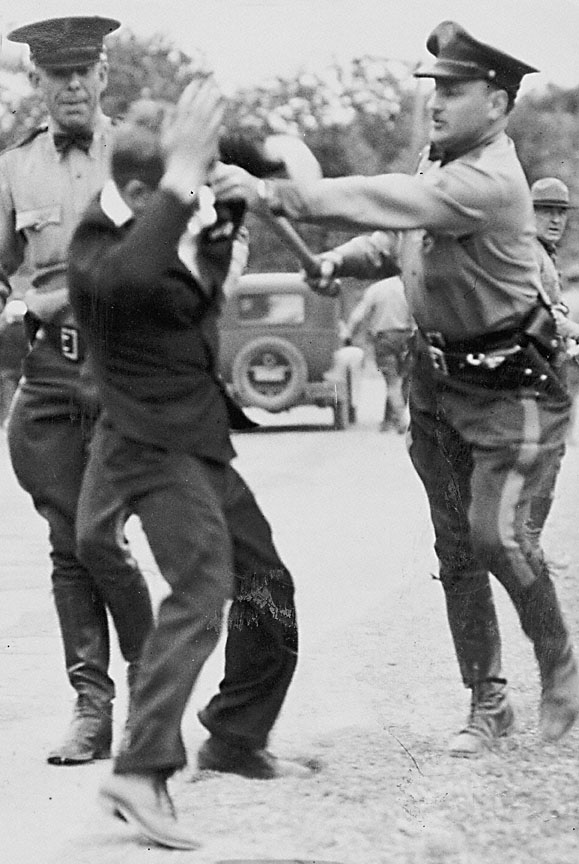 Catalog No. —

CN 012932

Date —

June 14, 1935

Era —

1921-1949 (Great Depression and World War II)

Themes —

Government, Law, and Politics, Labor, Trade, Business, Industry, and the Economy

Credits —

Oregon Historical Society

Regions —

Northwest Portland Metropolitan

Author —

Oregon Journal Collection
Police and Pickets Clash, Stimson Mill, 1935
This photograph—published in the Oregon Journal on June 14, 1935—shows a state policeman clubbing a picketer several miles south of Forest Grove. The unidentified picketer was one of about 150 to 200 men protesting the return of non-union employees to the Stimson Mill. This action was part of the 1935 lumber strike, one of the largest labor strikes in Pacific Northwest history.
In early May 1935 an estimated 30,000 to 40,000 timber workers went on strike throughout the Pacific Northwest, closing down about half of the region's mills, logging camps, and wood product factories. The striking workers, most of them members of the Sawmill and Timber Workers Union, demanded a substantial pay raise, a thirty-hour work week, overtime and holiday pay, and union recognition.
Most of the mills, logging camps, and wood product factories in the Portland area and in the lower Columbia River district were closed by the strike. Union picketers attempted to shut down the few mills that remained open, sometimes resulting in violent confrontations between union workers, non-union workers, and state and local law enforcement personnel.
The photograph reproduced here was taken during one of these clashes. Picketers had briefly shut down the non-union Stimson Mill in early May, but the mill reopened later that month. On June 13 approximately 150 to 200 union picketers returned to try to shut the mill down. When dozens of state and local law enforcement officers arrived on the scene to disperse the picketers, the Oregonian reported, "sticks and rocks flew freely," though "only a few bruises were reported." Twenty-eight picketers were arrested and the rest were forced to march to Forest Grove, where they were loaded onto trucks and taken into Portland. "Next time they'll walk to the Multnomah county line," the Washington County sheriff warned. "There is no strike condition in this county and I aim to protect any mill that wants to operate."
More than 100 picketers returned the following day, but they left peacefully when the state police ordered them to disperse. The Stimson Mill continued to operate through the rest of the strike, which ended in August. Although the three-month strike resulted in some modest gains, many workers considered it a failure. Some placed the blame on police and national-guard support of lumber companies, as well as dissension among the striking workers.
Further Reading:
Lembcke, Jerry, and William M. Tattam. One Union in Wood: A Political History of the International Woodworkers of America. New York, N.Y., 1984.
Menefee, Selden C. "How the Lumber Strike Was Broken." The Nation 141 (September 4, 1935): 275-276.
Written by Cain Allen, © Oregon Historical Society, 2006.