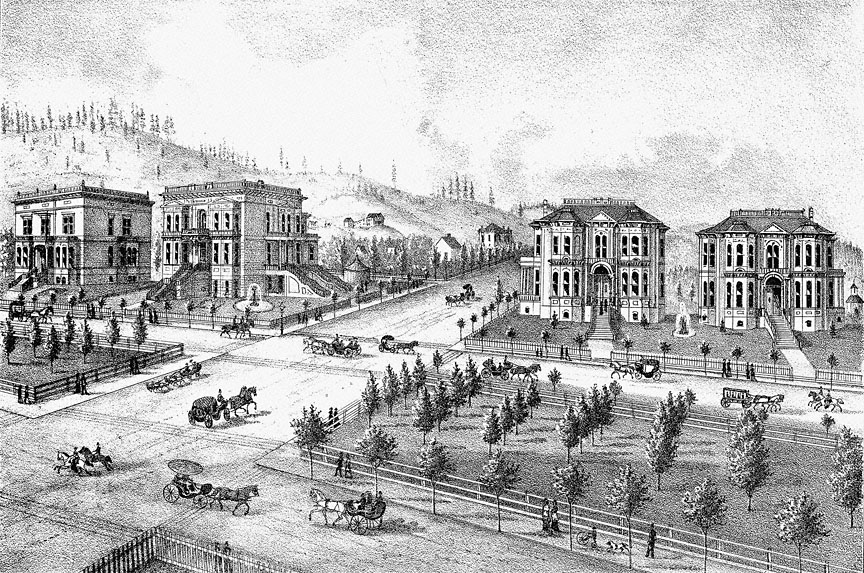 Catalog No. —

OrHi 734

Date —

1882

Era —

1881-1920 (Industrialization and Progressive Reform)

Themes —

Architecture and Historic Preservation

Credits —

Oregon Historical Society

Regions —

Portland Metropolitan

Author —

Unknown
Portland Mansions, 1882
The pair of Italianate mansions on the right of the lithograph belonged to two brothers, Ralph and Isaac Jacobs, and their families. In 1882, when this lithograph was made, mansions such as these at Southwest Park and Montgomery were a common sight in what is now downtown Portland. Over time, most were torn down to make way for new construction, however, one of the Jacobs' family homes endured until the 1940s.
By the late 1860s and 1870s, many of Portland's merchants had become prosperous. They began to commission gracious residences with manicured gardens near what was then the edge of town. Within a few years, the town grew up around them, and before long many of the homes were at the center of downtown activity.
The Corbett mansion, at Southwest Fifth and Yamhill, was one of these. It survived until Henry L. Corbett's widow, Gretchen Hoyt Corbett died in the mid-1930s. She was his second, and younger, wife, and her home was a tourist attraction because she kept her cow pastured in the north end of the block until 1925. Finally, rising taxes compelled her to allow the construction of a large office building over the cow pasture.
The Ladd Carriage House at Southwest Broadway and Columbia is among the last remains of the great downtown estates. The Oregonian building is now across the street from it where the Ladd mansion itself once stood.