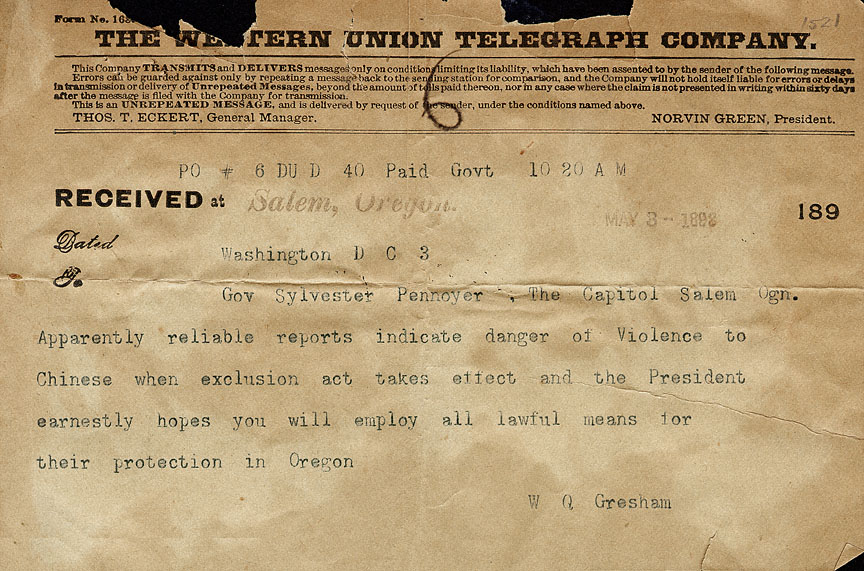 Catalog No. —

Mss 1521

Date —

1893

Era —

1881-1920 (Industrialization and Progressive Reform)

Themes —

Government, Law, and Politics, Race, Ethnicity, and Nationality

Credits —

Oregon Historical Society

Regions —

None

Author —

Walter Q. Gresham, U.S. Judge for the Seventh Judicial Circuit
Telegram to Governor Pennoyer
This telegram to Oregon Governor Sylvester Pennoyer from Judge Walter Gresham warns that extending the Chinese Exclusion Act might incite violence and asks that Pennoyer take action to protect Chinese immigrants. While no public violence in Oregon followed the passage of the federal 1892 Geary Act, which continued the ban on Chinese immigration for ten years, in prior years labor shortages and racial tensions had led to mob activity against Pacific Northwest Chinese.
Pennoyer had been propelled to the governor's office in 1886 as a leader of the anti-Chinese crusade in Oregon. He advocated Chinese removal, arguing that low-wage Chinese workers undermined opportunity and pay for Euro-American labor. Between 1885 and 1887, mobs forced Chinese immigrants out of several Northwest cities and murdered Chinese laborers in Wyoming and Oregon. In Portland, groups associated with the Knights of Labor held rallies and forcibly marched Chinese from several areas of the city and from Oregon City, to the neighborhood known as Chinatown. Some were made to stand as exhibits in front of an anti-Chinese rally. Mobs also raided and burned Chinese homes near Guild's Lake in Northwest Portland. The city's leading merchants did not support anti-Chinese violence or political action, and Chinese people were not forced out of the city. The Oregonian published articles opposing the violence and harassment. The Chinese Exclusion Act, which became a permanent law in 1904, was repealed during World War II when China and the United States became allies.
U.S. Circuit Judge Walter Q. Gresham served as the U.S. Postmaster General, before becoming a judge and later the Secretary of State under President Grover Cleveland. The city of Gresham was named for him.
Further Reading:
MacColl, E. Kimbark with Harry Stein. Merchants, Money, and Power: The Portland Establishment 1843-1913. Portland, Oreg., 1988.
Schwantes, Carlos A. "Protest in a Promised Land: Unemployment, Disinheritance, and the Origin of Labor Militancy in the Pacific Northwest." Western Historical Quarterly 13, 1982: 373-90.
Corbett, P. Scott and Nancy Parker Corbett, "The Chinese in Oregon, c. 1870-1880." Oregon Historical Quarterly 78, 1977: 73-85.
Written by Kathy Tucker, © Oregon Historical Society, 2003.