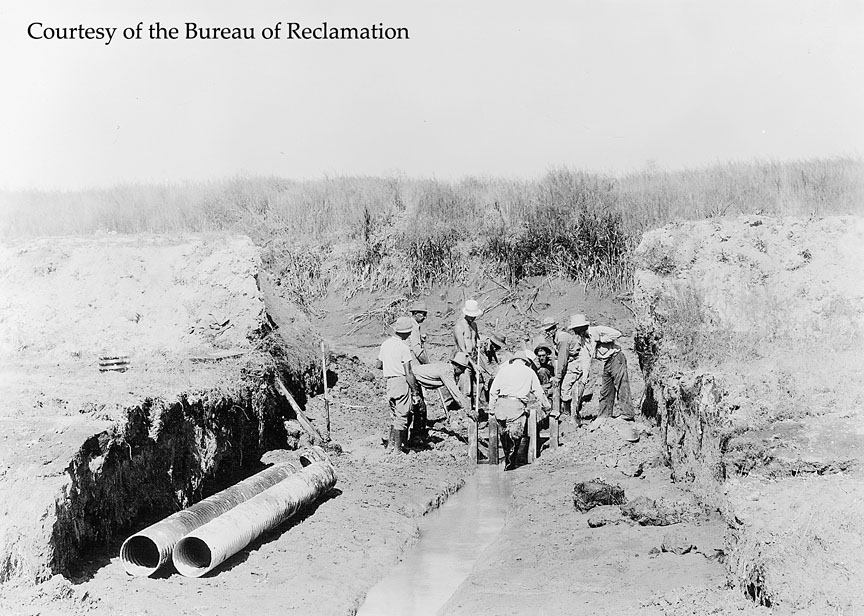 Catalog No. —

BOR 840

Date —

circa 1938

Era —

1921-1949 (Great Depression and World War II)

Themes —

Environment and Natural Resources, Government, Law, and Politics, Labor, Trade, Business, Industry, and the Economy

Credits —

US Bureau of Reclamation, Klamath Basin Office

Regions —

Southwest

Author —

US Bureau of Reclamation
Laborers on the Klamath Project
The Civilian Conservation Corps (CCC) was a New Deal program proposed in 1933 by President Franklin D. Roosevelt to provide jobs for unemployed Americans during the Depression. This photograph shows CCC laborers digging an irrigation ditch in 1938 for the Klamath Reclamation Project, a federal program to drain Klamath Basin water resources for irrigation and to create new settlement land.
Following World War I, many European nations stopped buying food and war materials from the US and/or failed to repay US loans. Germany, likewise, refused to pay reparations, or compensation, for losing the war. To compound the situation, Congress passed tariffs, or taxes, on competitive foreign goods to protect domestic products from cheaper imports. In response, European nations passed tariffs to protect their own economies. Ultimately, U. S. domestic prices inflated. Moreover, the U.S. stock market crashed October 1929 and finally pushed the United States into an economic depression. Factories cut production, employees were laid off, businesses closed, personal savings disappeared, and debt piled up. Over 5,000 banks closed. At the moment of Roosevelt's presidential inauguration in 1933, more than 3 million Americans were unemployed.
In his inaugural address, the president proposed a plan to "put the people to work." A few days later, President Roosevelt explained to Congress: "I propose to create a civilian conservation corps to be used in useful work, not interfering with normal employment, and confining itself to forestry, the prevention of soil erosion, flood control, and similar projects." Like other New Deal programs, such as the Works Progress Administration and the Public Works Administration, the CCC was designed to combine unemployment relief with useful public work projects.
Further Reading:
Ermentrout, Robert Allen. Forgotten Men: The Civilian Conservation Corps. New York, N.Y., 1982.
Salmond, John. The Civilian Conservation Corps, 1933-1942: A New Deal Study. Durham, N. C., 1967.
Written by Robery Donnelly, © Oregon Historical Society, 2003.