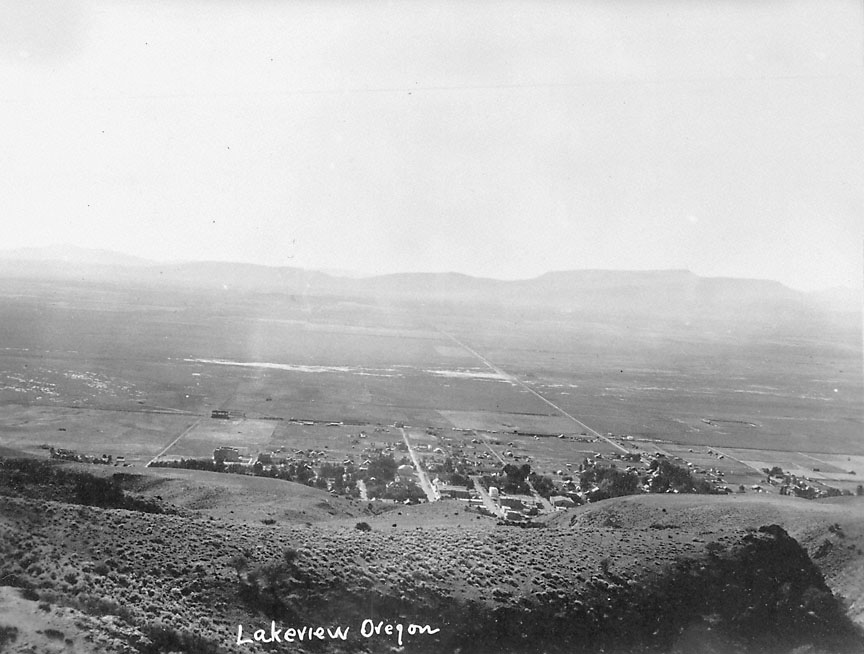 Catalog No. —

CN 022000

Date —

circa 1910

Era —

1881-1920 (Industrialization and Progressive Reform)

Themes —

Environment and Natural Resources, Geography and Places

Credits —

Oregon Historical Society

Regions —

Southwest

Author —

Unknown
Lakeview & Goose Valley
Lakeview was named in 1876 for its view of Goose Lake, which is barely visible in the background of this photo (ca. 1910). At that time, Lakeview took the Lake County seat from Linkville (Klamath Falls), which included today's Lake and Klamath Counties. The counties were separated in 1882. The desert grass, meadows, and abundant water in the area made Lakeview and Goose Lake an advantageous settlement for cattle and sheep ranchers.
Goose Lake at one time spanned 40 miles in length and was 20 miles wide. Today, due to irrigation and evaporation, the lake is no longer visible from Lakeview. In 1843, John C. Frémont, Kit Carson, and their crew slept beside Goose Lake before traveling east to report to the government officials on the Oregon Country. Lindsay Applegate and a survey crew passed the lake in July 1846 while mapping the final stages of the Scott-Applegate Trail. The Klamath Indian name for the lake was Newapkshi. During settlement in the 1870s, however, the lake was renamed for the large number of wild geese who visited Central Oregon.
Further Reading:
McArthur, Lewis L. Oregon Geographic Names. Portland, Oreg., 1992.
Burcham, Mildred Baker. "Scott's and Applegate's Old South Road." Oregon Historical Quarterly 41, 1940: 405-423.
Boydstun, Georgie Ellen. Stephenson, The Growth of Lake County, Oregon. Wilsonville, Oreg., 1994.
Written by Robery Donnelly, © Oregon Historical Society, 2003.