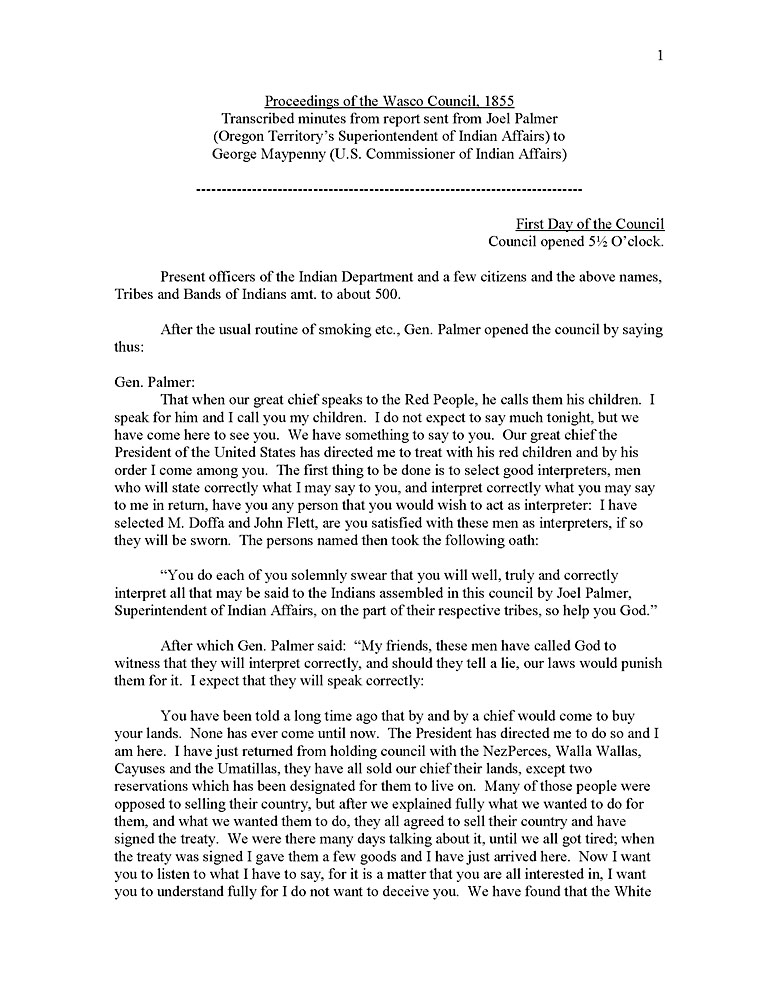 Catalog No. —

Mss 616

Date —

1855

Era —

1881-1920 (Industrialization and Progressive Reform)

Themes —

Government, Law, and Politics, Native Americans, Oregon Trail and Resettlement

Credits —

Oregon Historical Society

Regions —

Central Oregon Country

Author —

Joel Palmer
Proceedings of the Wasco Council, 1855
This version of the proceedings of the treaty-making Wasco Council is a reprinted typed transcript of the original report sent to George Maypenny, United States Commissioner of Indian Affairs, from Joel Palmer, Oregon Territory's Superintendent of Indian Affairs. The council was held near The Dalles, Oregon, in June of 1855. The Warm Springs Reservation was created as a result of Congressional ratification, in 1859, of the treaty with the Taih, Wyam, Tenino, and Dock-Spus Bands of the Walla-Walla, and the Dalles, Ki-Gal-Twal-La, and the Dog River Bands of the Wasco.
By 1855, land-hungry American settlers had been streaming into Oregon Country for more than a decade. Their growing presence spurred the United States government to negotiate treaties with the region's Indian peoples in order to secure legal title to desired lands. Through treaties, Indian people sold the U.S. government much or all of their ancestral lands and were encouraged to permanently settle on reserved lands within federally designated boundaries—typically chosen by federal officials for their undesirable agricultural potential and lack of white settlement—in exchange for the promise of security from further encroachment or deprivation by Americans. Additionally, Indian people often reserved off-reservation rights to hunt, gather, and fish in their "usual and accustomed" places "in common with citizens, of the United States."
Because this is a typed transcript of the original report, it is important to realize that errors may have occurred during its reproduction.
Further Reading:
O'Donnell, Terence. An Arrow in the Earth: General Joel Palmer and the Indians of Oregon. Portland, Oreg., 1991.
Written by Joshua Binus, © Oregon Historical Society, 2003.