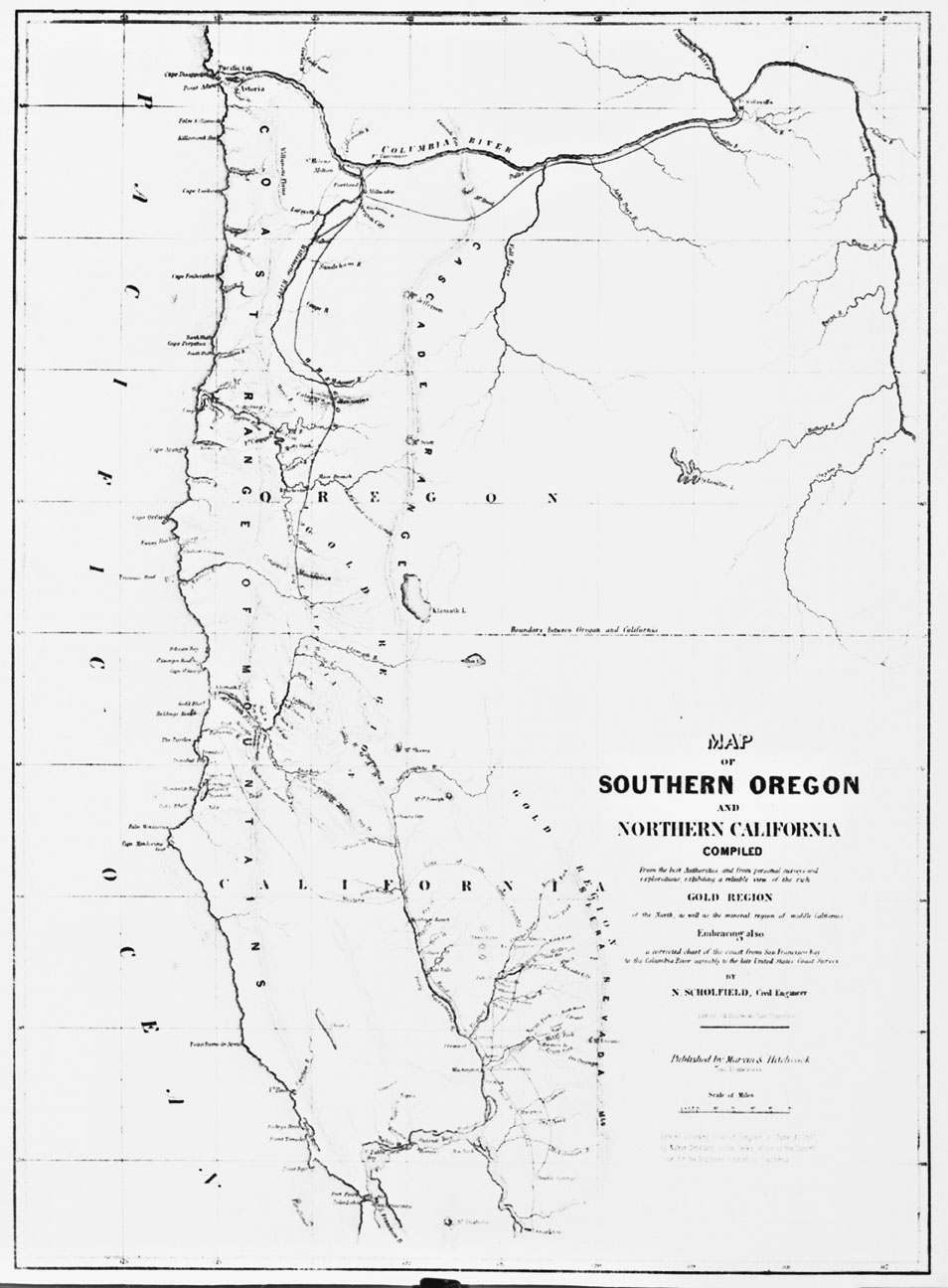 Catalog No. —

OrHi 99302

Date —

1851

Era —

1846-1880 (Treaties, Civil War, and Immigration)

Themes —

Environment and Natural Resources, Geography and Places, Native Americans, Oregon Trail and Resettlement, Trade, Business, Industry, and the Economy

Credits —

Oregon Historical Society

Regions —

Oregon Country Oregon Trail Southwest

Author —

N. Scholfield
Southern Oregon & Northern California
The 1848 discovery of gold in California was a lure for many Euro Americans, including up to two-thirds of the men who had recently crossed the Oregon Trail and settled in the Willamette Valley. This map, created during the California gold rush, shows the California gold regions and "southern" Oregon. Oregon Territory originally included what are now the states of Washington and Idaho. Oregon became a state in 1859, and the Columbia River defined its northern border. Miners traveling from Oregon to California passed through the Rogue River Valley. In December 1851, several men discovered gold near present-day Jacksonville, sparking a rush of miners into the area from both the Willamette Valley and northern California. The initial method of placer mining for gold was later replaced by the use of pressurized water that removed entire hillsides. Boom towns, such as Jacksonville, Waldo, and Gold Hill, grew throughout the area to provide miners with supplies. Rogue River Valley Indians did not welcome interlopers, and they gained a reputation for attacking fur traders, explorers, and immigrants. Violence became common between the Indians and miners, culminating in the Rogue River War in 1855.
Further Reading:
Beckham, Stephen Dow. Requiem for a People. 2nd Edition. Corvallis, Oreg., 1971.
Written by Kathy Tucker, © Oregon Historical Society, 2002.