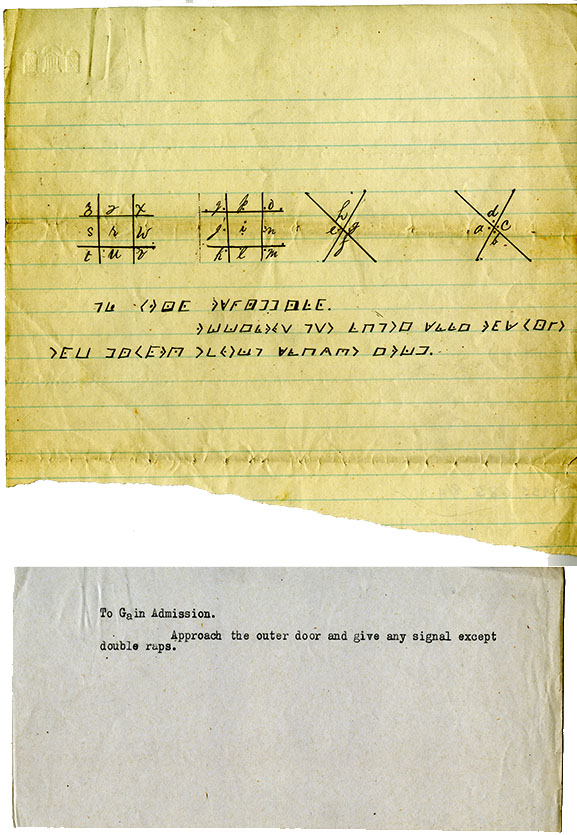 Catalog No. —

Mss 685, Box 8, folder 4

Date —

c. 1863

Era —

1846-1880 (Treaties, Civil War, and Immigration)

Themes —

Black History, Government, Law, and Politics, Race, Ethnicity, and Nationality

Credits —

Unknown

Regions —

Coast Portland Metropolitan Willamette Basin

Author —

Union League (Oregon chapter)
Union League Secret Code and Translation
This coded message was created by a national organization called the Union League, a fraternal/political club with many chapters formed during the Civil War to support President Lincoln and his war efforts. Many cities and towns formed Union Leagues and opened their membership to both Republicans and Democrats. As a result, Democrats—loyal to their party but against secession—could vote Union without formally aligning with the Republican Party. The Marion County League described the purpose of this ideological partnership in its first resolution: "That as all former political issues are now obsolete, the attempt to divide the friends of the Union on party names, demonstrates hostility to our Government." Perhaps most importantly, Democrats in northern states could assert their patriotism and avoid being labeled enemies of the United States. As a political strategy, the creation of the Union Leagues was successful: many Union candidates won local and state races, and Lincoln won the 1864 election with a majority popular vote.
Following the war, Union Leagues in the South and East welcomed newly enfranchised African American men into their ranks. The Fifteenth Amendment created a powerful voting block of Black voters, and Republicans saw an opportunity to recruit and steer votes to benefit Republican candidates and interests. In Oregon, it is unlikely that the local Union Leagues had Black members; the state had excluded African Americans from residing in Oregon by constitutional provision and, although African Americans lived in Oregon, they were severely marginalized.
According to the Portland Oregonian (a Republican paper), the first Oregon Union League was formed in Forest Grove on April 28, 1863. Other towns followed suit, and eventually many of the state's most influential politicians and civic leaders had some part in the leagues, including Governor Addison Gibbs. Handwritten copies of a Union League's Constitution and Bylaws are held in the Oregon Historical Society Research Library. The first constitutional provision declares: "The object of this League shall be to preserve the government of the U.S. and the laws & constitution thereof and the constitution and laws of this state; and to thwart the designs of traitors and secession sympathizers."
Although the Union Leagues had political goals that they made public—primarily through the politically partisan Oregonian—the members took the rules of membership very seriously. Secret codes and knocks, passwords, hand signals, and voice commands were all important parts of nineteenth-century fraternal organizations engaged in political activities. The political climate during and following the Civil War was volatile, and declaring party membership could also be a declaration of patriotism or treason. Many Union League members preferred to keep their membership affiliations separate from their day-to-day lives, so they followed elaborate rituals as declarations of trust for their fellow members.
Written by Amy E.Platt, 2014
Further Reading:
Foner, Eric. Forever Free: The Story of Emancipation and Reconstruction. New York: Alfred A. Knopf, 2005.