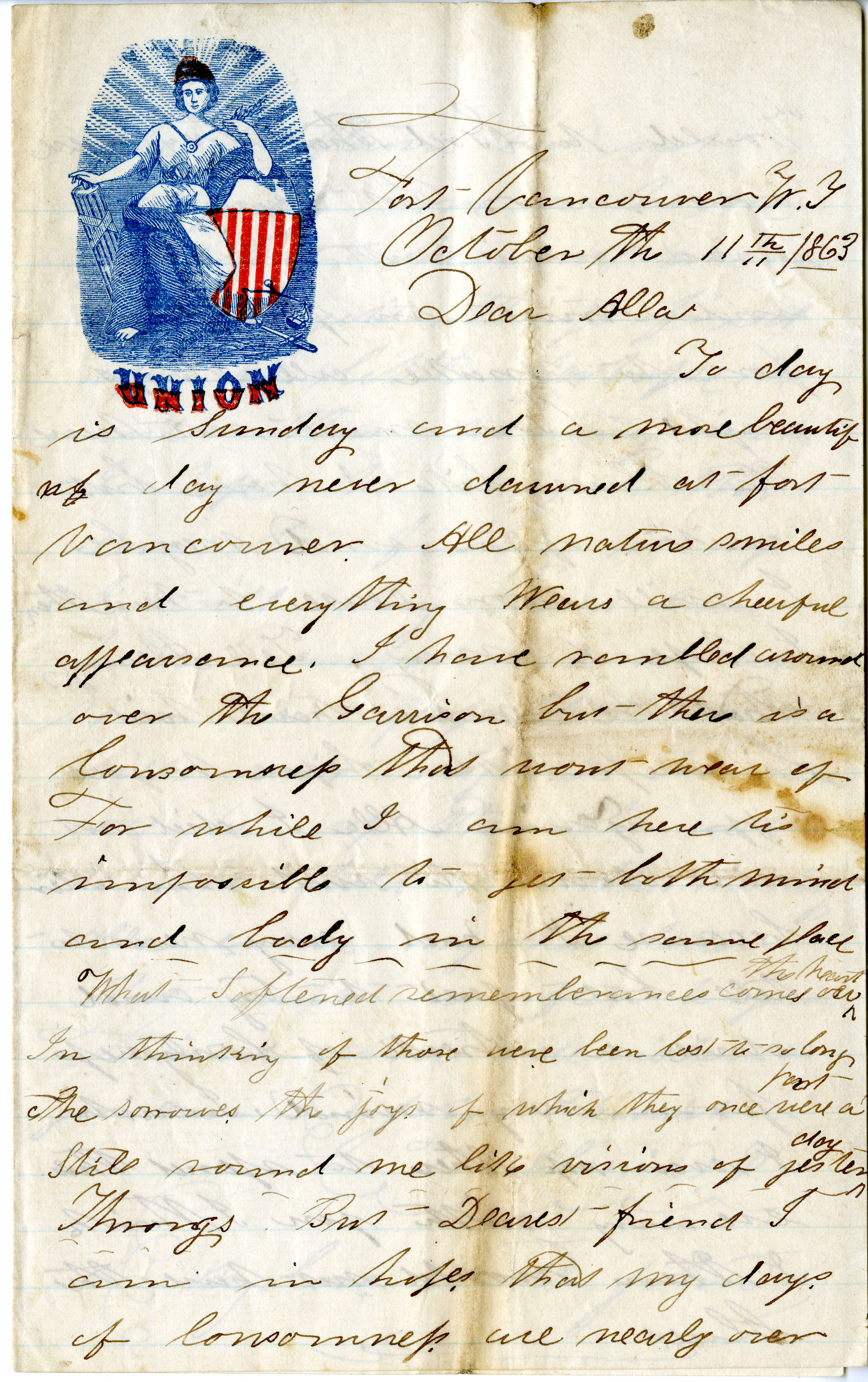 Catalog No. —

Mss 2669

Date —

1862-1865

Era —

1846-1880 (Treaties, Civil War, and Immigration)

Themes —

Government, Law, and Politics

Credits —

Oregon Historical Society

Regions —

Northwest Willamette Basin

Author —

John and Almira Dimick
John and Almira Dimick Letters
These letters from the John Buel Dimick Papers were written by John Dimick and his fiancé (and later wife) Almira "Alla" Eberhard during the time John was part of the First Oregon Volunteer Cavalry, "B" Company, beginning in 1862. John was one of hundreds of Oregon men to enlist in the cavalry—he enrolled his name in a Salem recruiting office on January 12, 1862. Sometime in April of that year, he left his family farm in French Prairie to be trained at Camp Ellsworth near Salem. His commission sent him to Fort Walla Walla and Fort Vancouver, among other places, and his letters to Almira provide meticulous records of military life in the Northwest during the Civil War.
John meant for the letters to be a record of his time as a cavalryman, and so he included detailed reports of his duties and activities. For army volunteers stationed in Oregon, far from the bloody battles in the East, the days could be boring and uneventful. When the regular army units stationed in the Northwest were called east, volunteers from California and Oregon took over their duties—mainly to facilitate the settlement of overland emigrants by building roads and suppressing the Native populations. For much of the Civil War period, the days were often filled with non-events, such as this one described by John in June 1862:
"Since I wrote […] I have been out with a scouting party [we] were out about a week. We were on what is called the Umatilla Reservation. The Indians there numbering about 1500 began to show symptoms of hostilities. A detachment of our company amounting to 22 men went over there but when we got there all was quiet."
For her part, Almira kept John abreast of the local news and activities in Marion County: "We get along fine now, only a little lonesome but we must do the best we can now and trust for better days to come," she wrote John in 1864. "We have been out to the Black berry patch and got a pail full of berrys [sic] and put them up in bottles for our Boys when they come Home."
John Dimick was refused a regular army commission after the war and so he returned to Marion County and pursued politics. He was elected to the state legislature in 1886. Dozens of his and Almira's letters are held in the OHS library, and provide first-person accounts of the Civil War experience in Oregon.
Written by Amy E. Platt, 2014
Further Reading
Barth, Gunter. All Quiet on the Yamhill: the Civil War in Oregon. Eugene: University of Oregon Press, 1959.
Fout, Glenn, and Allan Kittell. Bear bravely on : letters from Sergeant John Buel Dimick, First Oregon Volunteer Calvary, to Almira Eberhard, 1862-1865. Portland, Ore.: Lewis & Clark Colege, 1983
Josephy, Alvin M., Jr. The Civil War in the American West. New York: Alfred A. Knopf, 1991.